Niagara Falls Webcam: A Falls View 24/7
As the closest hotel to Niagara Falls, the Niagara Marriott on the Falls Hotel is proud to bring you a Niagara Falls live cam with all-day and all-night views of this global destination. The Niagara Falls webcam is situated on the 22nd floor of the Marriott on the Falls Hotel, offering an amazing full view of the American Falls, Bridal Veil Falls, and Horseshoe Falls. Check back here any time to see a new view, including beautiful, colourful illumination every night, with times depending on the season.
We are currently experiencing technical difficulties with our webcam. Please enjoy this feed from our sister property, Sheraton on the Falls.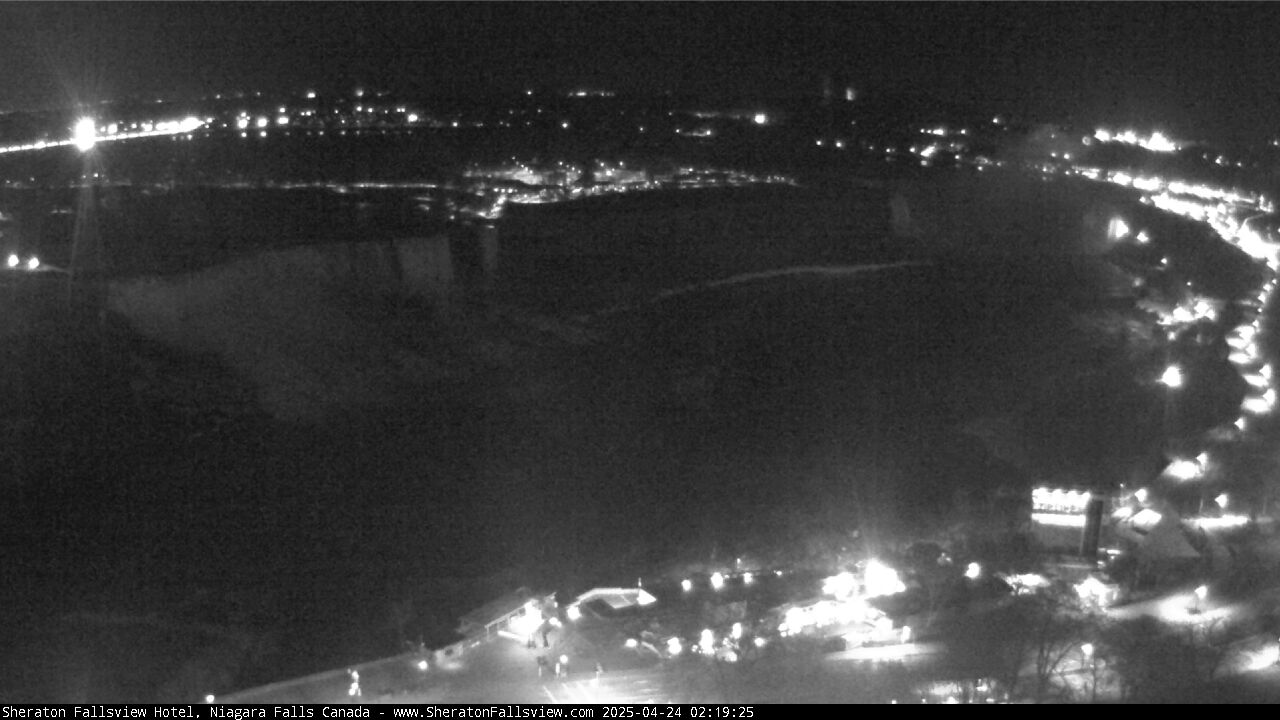 Did you know that you can stay in a room with exactly this view? Our Fallsview Rooms offer spectacular views of Niagara Falls right outside your window, so you can go to bed and wake up to this natural wonder. Our close proximity to Niagara Falls makes the Marriott on the Falls Hotel a top place to stay because you're always close to all the fun action of Niagara Falls. See some of our affordable packages, including casino play, wine tasting, spa relaxation, and more, here in our Niagara Falls packages selection.
The First and Original Niagara Falls Webcam
The Marriott on the Falls Niagara Falls live cam has been broadcasting the splendor of Niagara Falls to revelers worldwide since it was installed in 1998, the first camera to come online on Fallsview Boulevard. It received an upgrade in 2012, about a decade after the Marriott on the Falls Hotel expanded to 32 stories to provide even more breathtaking views of Niagara Falls as one of the tallest hotels in the area.
This Niagara Falls webcam is special because of the diversity of the falls views it provides. While there are other cameras in Niagara Falls that overlook the falls from the north, this is one of the few Niagara Falls live cams with a direct view of all three waterfalls from the west bank of the Niagara River. Our camera is even featured by PBS as a direct view to one of the top sights in the world.
See Niagara Falls for Yourself in Person
If this Niagara Falls webcam has piqued your interest, you should know that there is absolutely no substitute for seeing Niagara Falls up close and personal. When you stay at the Marriott on the Falls Hotel, you get access to the best possible Niagara Falls views from our hotel rooms, dining areas, and more.
Our crave-worthy Milestones on the Falls restaurant offers familiar favourites with a twist, surrounding diners with Niagara Falls views that make their meals more memorable.
We are also a proud partner of Magnificent Tours, which is Niagara's largest tour company taking visitors to all the most notable sights around Niagara Falls for an unforgettable vacation or holiday. From wine tasting, to winter scenic tours, to private limousine tours, there's an adventure awaiting you that perfectly suits your tastes and interests.
Plus, the Marriott on the Falls Hotel is close to jogging and fitness trails, miniature golf, bowling, fly fishing, golf, and so much more. During many of these activities, you can enjoy the rushing waters of Niagara Falls right in your sights as you have a blast.
Let Marriott on the Falls Take Care of You During Your Stay
At Marriott on the Falls, you'll be just as delighted by the service at our hotel as the views offered by our Niagara Falls live cam are enticing. We've created a hotel sanctuary that is perfectly comfortable, so you can enjoy every moment you're here in peace and relaxation.
Some of the services and amenities you can enjoy during at stay at the Marriott on the Falls Hotel include:
In-room fireplace
Cable/satellite TV
Luxurious bedding with down comforters
Bathrobe
Bathtub with spray jets
Hot tub/whirlpool
Fitness center
Indoor pool
Whether you're spending down time at our hotel or are craving an escape nearby, you have everything you need at Marriott on the Falls Hotel to have an extraordinary time at Niagara Falls. Check out our affordable Niagara Falls room rates now, many of which offer the exact views you can see here on our Niagara Falls webcam. Start planning the trip of a lifetime.